It's no secret that in today's digital world, consumers take to the internet to discover new restaurants, read and write reviews, browse menus, and make reservations. As a restaurant owner or manager, it is more important now than ever to make sure your restaurant is being seen online by your target audience and that they pay a visit to your restaurant. However, marketing your restaurant at the same time as managing the day-to-day operations can be an overwhelming task for a restaurant owner to accomplish, therefore letting it fall to the back burner. Here are four services that Sera Group can provide to help your local restaurant succeed.
1. Digital Advertising
One of the main benefits of digital advertising for your restaurant is that you can control exactly who sees your ads, and when they see those ads. When someone searches for "restaurants near me" on Google, you want to make sure that your restaurant shows at the top before your competitors.
You can target your ads to reach people with specific interests while targeting specific geographic locations. You can control your costs to ensure you don't spend too much, and can change it at any time. You can measure your success with ads through different reports to make sure your KPIs are on track to success for your restaurant.
You want more customers walking through the door and having a meal at your restaurant, but how can you do that? By advertising your business with Facebook and Google, you can make sure your restaurant is seen online by the right people, at the right time, for the right price (which is only the price that you are willing to pay).
2. Food & Drink Photography
A photo of a dish or specialty drink may just be the deciding factor for a customer to want to try your restaurant or not. It's important to convey the overall message of the restaurant to potential customers through high-quality, professional photography.
By sharing clear, well-lit, and colorful photos of your restaurant and food on your website and social media, you are encouraging your customers to visit and do the same. As more people see those posts, they may be influenced to try out your restaurant and continue the snowball effect, raising awareness of your business. Below is a bad example paired with a good example of food photography for a restaurant: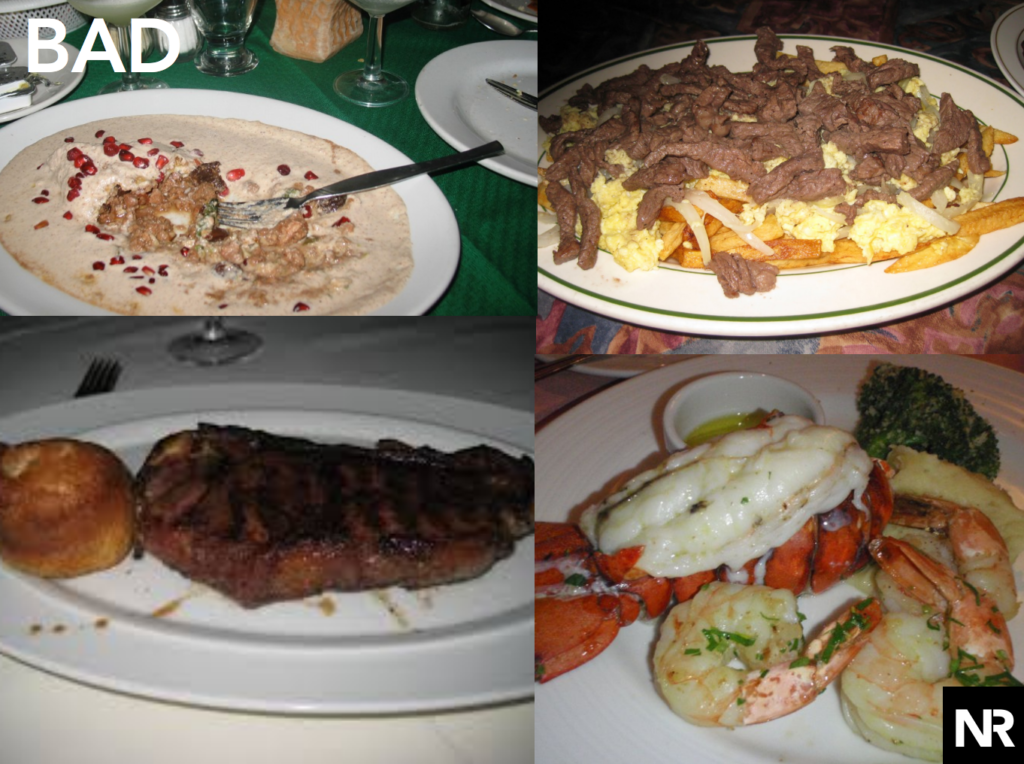 VS
Actual restaurant photography by Sera Group.
3. Updated Website
Having an updated website for your establishment allows customers to experience what your restaurant is like before they decide to visit. You can utilize your website to your advantage by providing customers with an online food and drink menu, as well as photos of menu items along with the atmosphere of the restaurant. 89% of consumers research a restaurant online prior to dining, so staying up to date with the content and information on your website is of utmost importance.
The pages that are necessary for a restaurant to have on their website are a home page, about, menu, contact, and reservation page, if applicable. Ideally, it should also include sections with reviews, a photo gallery, and potentially Frequently Asked Questions (FAQs). It is important to make sure the website is optimized for mobile devices, as most customers search for restaurants when they are already out and about.
4. Local SEO
One of the best ways to make sure your restaurant is seen locally is to create and manage a Google Business Profile. This listing allows you to appear in Google Maps, local search results, and the Knowledge Panel that is shown in regular search results. Your Google Business Profile is a wealth of knowledge for your business and includes information such as:
Contact information

Popular times and trends

Reviews

Photos

Directions

Posts from both the business and customers
Keeping this information updated can be crucial for attracting new customers, as your profile is an outlet for people to discover your business on a daily basis. The stronger and more accurate the details of your profile are, the better.
All Together Now
Utilizing one of the tools mentioned above will improve your restaurant's online presence, but using all four will make your restaurant unstoppable- both online and offline. At Sera Group, we specialize in using all four tools for our clients with restaurants. We're an award-winning digital agency that is known to work with local businesses and guide them to success.
If you are running digital ads, potential customers will see your website or Google Business Profile when they search for relevant keywords. Once they visit your website or Google Business Profile, they'll notice the professional photography of your food and drinks, they will become intrigued, and then want to visit your restaurant.
Don't be afraid to reach out to learn more about what we can do for you and your restaurant, it may just positively affect your business for the foreseeable future. Get in touch with us today to grow your restaurant.