The Highest Rated Northwest Indiana Marketing Agency
Looking for a local marketing agency to help grow your business? Sera Group is the highest-rated marketing firm in Northwest Indiana and has helped develop and execute marketing strategies for hundreds of businesses across a variety of industries.
Located just 45 minutes from Chicago and along the beautiful South Shore of Lake Michigan, Northwest Indiana, affectionately nicknamed "The Region", is home to many growing businesses. As a Northwest Indiana business based in La Porte, Indiana, Sera Group, is committed to providing high-quality marketing services to our community neighbors.
With hundreds of completed marketing projects from the region, our team has a thorough understanding of the local business community throughout Northwest Indiana. Our local knowledge combined with specialized experience in both creative and digital marketing allows us to help grow businesses of all sizes, across many industries.
Working with a full-service marketing agency such as Sera Group gives local businesses the unique advantage of having a team that is able to hold in-person meetings to better understand the products and services being marketed. Our team actively volunteers on various local boards and can be found at local schools helping teach students about software development and marketing.
Sera Group's La Porte, Indiana Office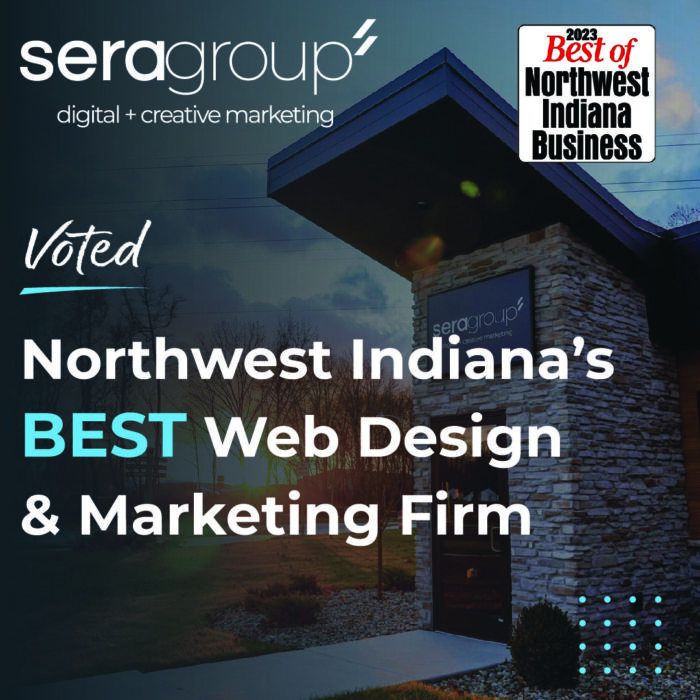 Sera Group Ranked #1 on Northwest Indiana Business Magazine in 2021, 2022 & 2023 for Best Ad Agency, Graphic Design, and Marketing Agency.
We are proud to have been voted the best 2021, 2022, and 2023 Web Design & Marketing Company in Northwest Indiana. There's a reason hundreds of Northwest Indiana business owners choose Sera Group as their marketing agency. Our team is here as a strategic partner dedicated to helping local businesses grow to their greatest potential.
We Are Not Only an Award-Winning Agency, but Also the Top-Rated Web Design and Marketing Agency in Northwest Indiana.
We have always believed in putting the quality of our services and customer support first. Unfortunately, many small business owners have had a less than ideal experience with other marketing and web design agencies. Stop by our office for a free consultation and see how our team is different. With hundreds of websites and marketing campaigns launched over the past several years, we have yet to have a single dissatisfied client.
Let our team help your business by:
Researching and developing a marketing plan

Targeting the right audience

Maximizing your existing advertising budget

Saving you and your team time from learning complex marketing skills

Monitoring your advertising campaigns and communication progress towards achieving your marketing goals
Research & Planning
Wireframes & Mockups
Ecommerce Development
Easy to Update
Training Included
Managed Hosting
Google Analytics 4
Custom Integrations
Marketing Strategy Development
Google Ads & Facebook Ads
Search Engine Marketing
Search Engine Optimization
Social Media Management
Reputation Management
Email Marketing
Video Production
Professional Photography
Drone Footage
Branding
Logo Design
Custom Graphic Design